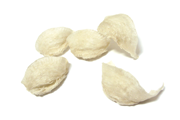 Supreme White Bird's Nest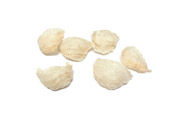 White Triangular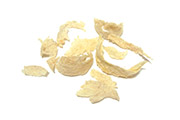 White Bird's Nest Strips (Large)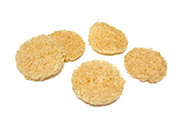 White Bird's Nest Cake
Daily Portion
The recommended intake of bird's nest is 2 to 3 table spoons per person per day. Timing of consumption is best when consumed first thing in the morning before breakfast because the nutrients will be most absorbed during this time. Some customers prefer to consume 1 to 2 table spoons in the morning and another 1 to 2 table spoons in the evening just before bed time. This is also recommended. The key to achieving good health and anti-aging is the regular daily intake.
Affordability
The retail price of white triangle bird's nest is CAD $110 per tael (i.e. 37.8g). After soaking in cold water, each tael of bird's nest can be cooked into 6 rice bowls of nutritious desert or soup. In other words, each rice bowl requires around 6.3g of dry bird's nest (37.8g / 6). This is approximately equal to one whole triangle nest.
By consuming 2 table spoons of bird's nest everyday, one rice bowl will last for one week for one person. Therefore a tael will last for 6 weeks. Your daily cost = CAD $110 / 42 days (6 weeks) = CAD $3 per day.
If you can afford to buy a coffee a day, you can afford to consume bird's nest EVERYDAY!